More cities have investigated urban charging schemes than have implemented them.
A number of cities that have investigated urban charging schemes but have so far decided against implementing them are given below.
These include
City/Country

Details

Edinburgh, UK

Nearly implemented a scheme, but it failed after a referendum, see Edinburgh case study below.
Stockholm also had a referendum on implementing an LEZ, but after a trial – after experiencing the scheme, the referendum decided in favour of the scheme.

Nottingham, Manchester, Leeds, Hampshire, Leicester, Cambridge, UK

Investigated road user charging, but it was not implemented

The Netherlands

Has repeatedly nearly implemented a road/time/vehicle national road charging scheme, but it has not yet been implemented.

Helsinki, Finland

Investigated congestion charging, but it was not implemented, see Helsinki case study below.
A number of further case studies of congestion charging schemes for these cities who decided not to implement schemes can be found on the EU-funded website Curaco.
A decision against implementing a congestion charge was made in 2005. There were a number of feasibility studies and consultations undertaken.
The final charging scheme consisted of two cordons at which a charge would be levied for vehicles travelling inbound, towards the city centre. There would be an outer cordon around the edge of the built-up area of Edinburgh, just inside the outer city bypass, and an inner cordon around the centre of the city, broadly encompassing the World Heritage Site
The outer cordon would operate between 7am and 10am only; the inner between 7am and 7pm, Mondays to Fridays in both cases.
The charge was planned to be £2 (€2.40). This would be the charge per day, even if the vehicle crossed the cordons a number of times during the day.
Public opinion was always a key concern. Around 19,000 consultation responses received in the 1999 consultation. They showed high levels of support (62%) shown for the strategic option including the concept of congestion charging. In addition to the public consultation, there was also extensive consultation with stakeholders.
The conclusions of the consultation and an initial technical appraisal were positive Congestion charging was feasible, would reduce traffic levels, could generate substantial revenue for transport investment and would have no or very limited adverse economic impact if the charge was set at an appropriate level. There was also a good public acceptance, as long as the overall package was right.
In 2002 it was decided that a referendum would be taken before implementing a congestion charge. In 2003 there was a market research study undertaken, where there was a less positive outcome on how people were likely to vote on a referendum. Unfortunately the timing of the referendum was when the public opinion on charging was particularly low. The public inquiry in 2004 did not identify any significant barriers to the implementation of the scheme. However, due to the outcome of the referendum, the scheme was not implemented.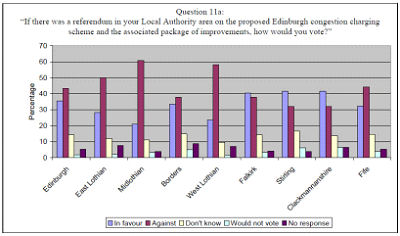 The City of Helsinki has been investigating congestion charging for several years.
There is a comprehensive study: Helsinki Region Congestion Charging Study undertaken in 2009. And another study: Helsinki region congestion charges. Follow-up study (see summary here) which was released by a Finnish central government working group in 2010.
The current conclusion is that a Helsinki congestion charge could reduce congestion, improve traffic safety, reduce air pollution and increase patronage of public transport. The potential is there as Helsinki has an excellent metro, suburban rail, tram and bus network, and a downtown bounded by a major ring motorway and water.
The main reasons opposing a congestion charge are:
-The insufficient public transport capacity and lacking funds to improve it
-The high cost of retrofitting vehicles with On Board Units
No final decision has been made yet.